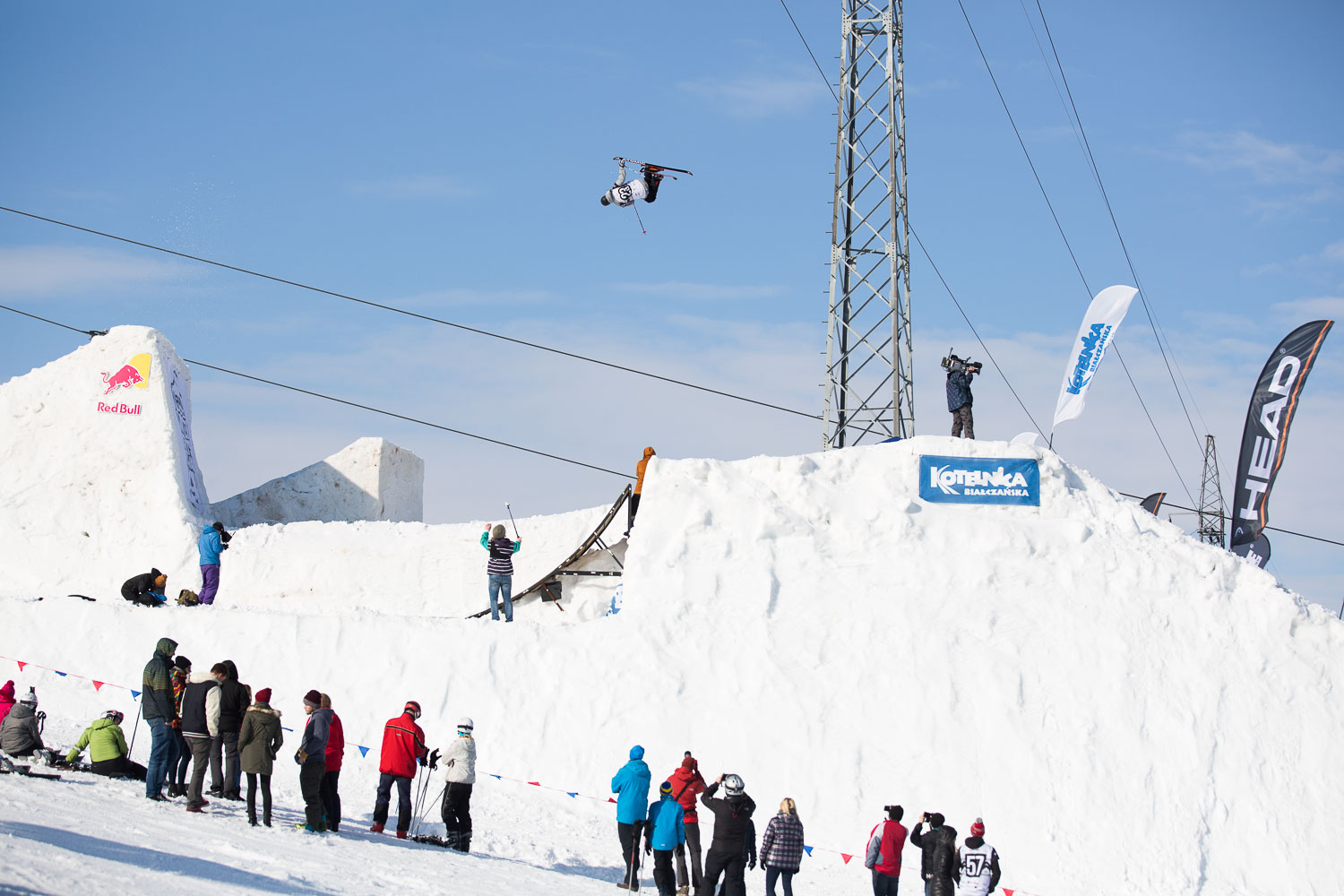 Pontus Nordström lands top spot during Winter Sports Festival
Earlier this season organizers of the well known Polish Freeskiing Open announced change of the event's name and addition of snowboard and bike big air competitions. As one could expect this was the best way to make great event even better!
Skiers, snowboarders and bikers competed on a jump built in the heart of the most popular Polish ski resort. The snow kicker with 20 – meter long table, was designed and shaped by Szczepan Karpiel – Bułecka and Janek Krzysztof, two of the most accomplished Polish freeskiers. The bike mega – ramp, prepared and tested by Maciek Kiwak, was said to be one of the biggest jumps built for dirt competition in Poland.
Freeski qualifiers took place on Friday. Pouring rain didn't stop competitors from Poland, Austria, Switzerland, Sweden, Norway and Lithuania from showing some great tricks, with double cork 1080 nose or double cork 1260 as some of the most noticeable examples. Robert Andre Ruud from Norway took the top spot that day, with another Norwegian – Petter Ulsletten in second and Pontus Nordström from Sweden in third place. Last years Polish Freeskiing Open winner Erik Lundmark (Sweden) was fourth, which clearly showed that also this year he is one of the top contenders.
Just after the qualifiers the temperature dropped and the rain slowly changed to snow, which continued to fall all night long! With over 10 centimeters of fresh powder, there was a lot of work ahead of the shapers crew on Saturday morning. After the riders meeting the decision has been made to start the day with Ski & Snowboard Rail Session, and Bike Big Air qualifiers. You can just imagine the level of excitement among spectators when huge backflip on a bike followed some great flip variations of the cannon box by skiers and snowboarders. Finally it was skiers Robert Andre Ruud from Norway and Zuzanna Witych from Poland and Polish snowboarders Piotr Janosz and Agnieszka Rusin who were chosen the best riders of the jam session. Additional prizes for the Best Trick went to Sam Baumgartner from Austria (freeski), Piotr Tokarczk (snowboard) and once again Agnieszka Rusin – one of the best Polish female snowboarders. And that was just a warm up before the highlight of the day – Big Air Semifinals and Finals.
What happens when you gather some of the most talented young riders from Europe and give them a big jump and great spectators cheering up and loudly applauding every trick? Answer is: an epic show! With the amount of double corks and flips in the final battle between the top 10 contenders it was all about who has the most style, and can stomp the trick perfectly. Each competitor had 3 jumps, from which the best one counted. In the end it was Pontus Nordström who scored 94 points with dub cork 1260 tail, and landed the top spot during Kotelnica Białczańska Winter Sports Festival.
"I'm really happy with my jumps. The level of riding was really high so I'm glad to go home with the win. I came here last year, heard about competition from my friend, got second so I was stoked to be back." – said the happy Swede after the prize giving ceremony.
Second place went to last years winner Erik Lundmark from Sweden, who got 90,33 points. Norwegian Petter Ulsletten was third with 87,33 points. Robert Szul from Poland was crowned new Polish Champion in Freeskiing (Big Air). Zuza Witych showed some nice tricks on smaller kicker (14 m table) and took the win among women. Local snowboarder Kuba Wolak impressed everybody with big, stylish rotations, which earned him some nice prizes in cash and goods.
Bike Big Air Final was the last competition held on Saturday. Not everyday you can watch bikers flying couple of meters above snow throwing some stunning tricks like cashroll, backflip superman indian, frontflip, backflip no hander or backflip tailwhip.
"Giving the conditions, the level of the riding was really high. I hope everybody liked the show. This was my first competition on snow, but I hope that we'll have an opportunity to take part in this event next year!" – said Marek Łebek, winner of the dirt competition. Second place went to Marcin Rot and third to Adam Głosowic.
Kotelnica Białczańska Winter Sports Festival was without a doubt one of the most fun events one could take part in this winter. With athletes representing three disciplines, showing how similar they are, this was something more than just a sport competition. And organizers already announced that next year will bring even more changes, that will take the "new, well known event" to the next level!